Rafting Australia
Operating for over 29 years owners Linton and Tracey love the river, love what they do and love to share the passion for rafting rivers with all their clients. This enthusiasm for their excellent product is infectious and helps to create the unique experience that is rafting with Rafting Australia.

You will find Linton, his wonderful sense of humour, charm and knowledge on each and every trip along with hand picked staff for the season.
Tracey of course is the woman behind the man, running the office, river base and generally becomes the shuttle bunny sending the clients on their journey with a wave and a friendly smile.
Rafting for Linton professionally began in the 1980's when a very good friend "Kemlo" pointed out to him while on a personal trip on the Nymbodia river that he should be "Offering this type of journey and amazing experience for everyone to enjoy" and by using his passion and experience he could turn this into a full time business.
Linton started running small tours with friends and local business which turned into referrals all while running a gym and security for a local school.
This has now evolved from running small rapid trips on the King River to full day and overnight tours on the mighty Mitta Mitta and Murray rivers.
Linton and his wife Tracey's vision is to operate, not necessarily the biggest, but definitely the best possible rafting experience for our clients in Australia.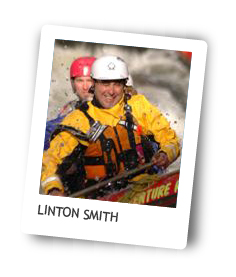 A travel writer voted Linton's Mitta Mitta River trip "one of the top five river journeys in the world", while a Canadian rafting operator said that his trip through the Murray Gates in the Snowy Mountains "provided some of the best technical rafting in the world, combined with incredible wilderness and wildlife".

Linton has spent long enough on dry land to co-author Victoria's rafting standards for the Outdoor Recreation Centre, and to write the rafting risk management policies that have become best practice in Victoria.