| | | | |
| --- | --- | --- | --- |
| The Man from Snowy River Experience | | | |
The 'Man from Snowy River' was Jack Riley, a cattleman who rode the High Country and inspired the celebrated poem by Banjo Paterson. This led to two movies, both filmed in our region.
The 2-day Luxury Horse Ride and the 5-day 'Man from Snowy River' & Heritage Ride through 'Man from Snowy River' country takes you right to the perilously steep hill where the nail-biting jump scene was filmed for the movie.
The 7-day Bluff and Beyond High Country Peaks Horse Ride takes you to the top of the High Country where some of the most spectacular scenery was filmed from the movie. Both adventures include plenty of local yarns and folklore, with hearty country food.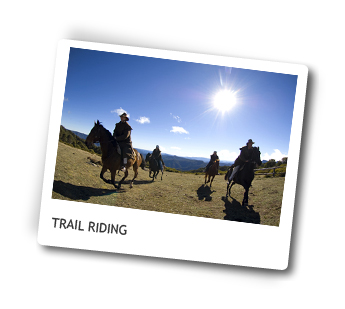 The 2 day 3 night Murray River "Hells Gate Adventure rafting journey takes you through the remote country where Jack Riley, who inspired the 'Man from Snowy River' poem, drove his cattle. You'll also visit Hermits Farm, where bushman Frank Thomson lived a life of seclusion. Then history gives way to white water thrills, with more than 40 rapids grade 1 to 3 rapids