| | | | |
| --- | --- | --- | --- |
| Australian Fauna and Flora | | | |
Australia has some of the world's most fascinating and remarkable animals. Our kangaroos and wallabies have bounded to fame, but the shy platypus and spiny echidna are unique. They're the only creatures  in the world that lay eggs then suckle their young, and you can discover them with Adventure Victoria.
Then there are evil-looking Tasmanian devils, tubby wombats and great birds of prey, including eagles that soar over the High Country.
The 2-day Luxury Horse Ride, 7-day Bluff and Beyond High Country Peaks Horse Ride, 5-day 'Man from Snowy River' & Heritage Ride and the 1-day Gourmet Wilderness Walk in the Alpine National Park shows you the best of Australian wildlife and flora. Indigenous fauna including wombats, echidnas, kangaroos, wallabies and birds of prey all roam the hills of the High Country. In summer, carpets of wildflowers create great fields of colour under graceful snow gums and other eucalypt trees.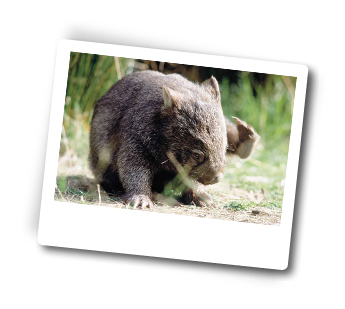 The 1-day Mitta Mitta River Adventure whitewater adventure delivers non-stop action in some of Australia's most magnificent scenery. The river is surrounded by the awe-inspiring Kosciuszko National Park, where kangaroos, wombats, emus and prolific birdlife are at home.