| | | | |
| --- | --- | --- | --- |
| Annual High Country Cattle Drive | | | |
'Man from Snowy River' experience
Suits: Beginners to experienced riders
Location: North East Victoria
Time: 5 days
When: Monday 30th November 2009 - Friday 4th December 2009
Cost: AUD $2,000.00pp (incl GST)


As seen on Coxy's Big Break

HIGHLIGHTS
• Ride with 5th generation mountain cattlemen
• Follow in the footsteps of the pioneers of the
high country who inspired the movie "The Man from
Snowy River
• Enjoy stories around the camp fire
• Enjoy exclusive use of remote cattlemen huts
• Listen to the Master of Horses from the 'Man from Snowy River'
Take this extraordinary trek accompanied by Michael Watson second generation and Charlie Lovick, a fifth generation high country cattleman and Master of Horses for both "Man from Snowy River" movies.

Day 1: Arrive at our working cattle property nestled at the base of the high country. Here you begin your bush education on horseback and start the drive along the back roads of the low country finishing at "Dungeon Hut" hidden in a narrow valley for a swag out for the night.

Day 2: We ride up to 360 degree views over the High Country, seeing the legendary downhill scene from the 'Man from Snowy River', we then continue our journey droving cattle through the bush enjoying the tranquility broken up only by the crack of the stock whips to our destination the "Hideout" a group of cabins beside the majestic Howqua river. Here we can enjoy a swim in its crystal clear waters, soothe the muscles with a massage and enjoy a traditional cattlemen's roast with stories around the camp fire.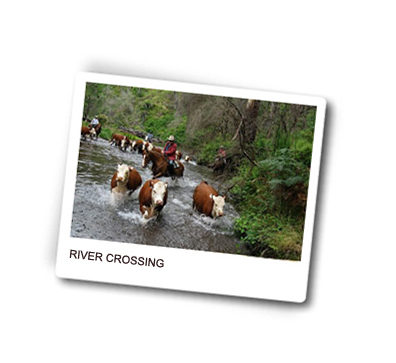 Day 3: We drive the cattle alongside the majestic Howqua River towards remote "Seeforth Station" a high country outpost settled by the Lovick family in the 1870s. We traverse the traditional bridle trails used by mountain cattlemen for 150 years, criss-cross the river and canter along open river flat that makes for an exhilarating day in the saddle.

Day 4: We pick up the last of the straggling cattle and then explore the rich history of the Howqua Hills, its cattlemen's huts and wildlife, its cattlemen's huts and wildlife including Fry's Hut, the Chinese Gold Diggings and the Professors Hut.

Day 5: The morning is spent in the saddle enjoying the weeks new found horsemanship skills with a trip up the river along the low track and its many river crossings before returning via the high track and its long open cantering tracks. We transfer you back to our home property.

{mosmap width='300'|height='200'|lat='-37.052437'|lon='146.089325'|zoom='10'|zoomType='Small'|zoomNew='0'|mapType='Map'|showMaptype='0'|
overview='0'|text=''|tooltip='DWO'|marker='1'|align='left'}