Australian Adventure Experience
Geoff spent 29 years with one of Australia's largest corporations, reaching senior executive level before realising that his outdoor interests were what really mattered in his life.

For the last 15 years he's been sharing his love of canoeing, kayaking, rock climbing, abseiling, mountain biking, bushwalking, caving and touring by 4WD/RV with visitors from around the world.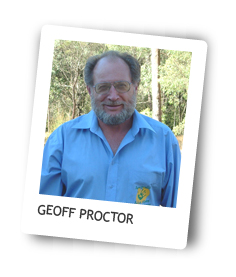 His favourite places include the million year old myrtle beech forest on his Tall Trees tour where visitors may glimpse the showy performance of the lyrebird, and the peaceful rivers where guests go paddling with the platypus, an aquatic creature that's unique to Australia.

Like his colleagues David Chitty and Linton Smith, Geoff has made a very significant contribution to adventure industry standards. He established an emergency and risk management plan for the Outdoor Recreation Centre, and has written a number of Adventure Activity Standards. He's also the only person outside the USA to have won accreditation for the 'Leading at the Edge' corporate leadership program.